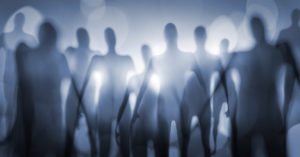 The fear that comes from the very word, possession conjures up memories of just about every possession type movie ever made. How many people wake up each day worried that something will take over their body? Probably not many, because as humans, we don't live life thinking in terms of our bodies being possessed or fear the unthinkable … body snatching. It's a made for movie problem, not so much a real life problem. But what happens to those few who have experienced possession? Are they ever the same or does the relationship between body and soul have a whole new meaning?
The body is the vessel that contains so much of our life experience here on earth. The library within is a complete anthology of who we are and it contains our evolution as souls. Our bodies are truly the vessels of experience because in order to complete multiple life cycles, I believe we need multiple bodies. Some may argue this statement but it's one that I have come to understand as the truth. The human experience is so much more and I am forever grateful to God, our architect of life for the endless opportunity to learn and grow throughout the ages.
With the alien abductions I have experienced, I have learned that with my brain's ability to contain information, it also can be so manipulated. Reality versus implants becomes muddy and permeable to what I think the truth is. Maybe what I remembered really didn't happen or it did on a larger scale. After all these lifetimes, I wonder why my brain and body are still so vulnerable. But I got to thinking, what of that of Aliens? Can they be possessed like humans and would any other entity really even want to take over such an adversarial foe? Would it even be the same or is it really an earth based condition and one that only humans experience.
In the scheme of things, does the evolution of a species play a part in their vulnerability? Why are humans specific to earth plagued problems that come with the deluge of experiments, abductions and the subjugation of fallacious rule? Do Aliens experience what we do in their own communities or do they have an entirely different type of dynamics within their communities that places them in a different realm?
Do the various entities have procedures that dictate who they conquer, harass or manipulate? How is it, that mankind can be possessed and yet we never hear of Aliens such as Greys, Reptilian or the Tall Whites that succumb to the same problem? Do dark entities know instinctively who to manipulate and subjugate? If it happens, it's a well kept secret at least from a human standpoint.
Wouldn't it make sense to possess a more powerful species? Perhaps this is a dark secret that dark entities don't want us to know about. With Aliens highly evolved minds, are they impervious to attacks and possession?
With our emotional strengths and weaknesses, we can overcome any adversity and yet call to ourselves the very darkness that we so detest by one emotion that serves no one, it's called fear. It can blanket every aspect of a person's day or night, taking over the sanity of their lives, creating a perilous existence. Fear seems to be the one thing that human beings carry within them that other species don't. If fear is our Achilles heel, what would be so for other species? I really don't think that we are so inferior as a species that we are the only ones being attacked and tormented by malevolent creatures. But I must admit, when I was in the company of Greys, it never entered my mind to ask this question. It wasn't even on the back-burner for future encounters.
Can the idea of people following their religions be a beacon, that invisible marker that attracts these dark creatures? Religions in their many traditions tend to become the mediaries between humans and their divinity. The unfortunate consequence of letting someone else tell us what God wants us to know, is that it seats us at a disadvantage. Sometimes religion creates a disproportionate echelon that places people at the very bottom or more to the point leading them to believe that is their rightful place.
Adding to this question, I haven't really heard of a Sasquatch, Dogman or other Cryptids becoming possessed but maybe this is because the archaic stories of old have somehow been lost through the forests of time, along with the creatures of old. Interestingly enough, with the paranormal activity connected to abductions, I wonder if the ethereal world beyond the veil has more to it than we can ever fathom. Maybe Aliens don't become possessed because they are a part of the possession itself. So the question then becomes, who is worse, the demon or the Alien?