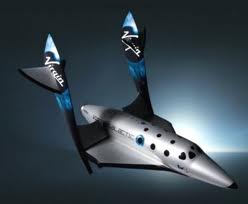 AFP/File – The Virgin Galactic SpaceShip2 glides toward earth on its first test flight after release from the mothership, …
– Fri Oct 22, 5:17 am ET
LAS CRUCES, New Mexico (AFP) – The world's first private passenger spaceship will pass another milestone toward its commercial lift-off Friday, at a remote spaceport in the New Mexico desert.
Flamboyant British multi-millionaire Richard Branson will commemorate the completion of the main runway at Spaceport America, near the town of Las Cruces where the Virgin Galactic project is based.
SpaceShipTwo, which could carry paying customers into suborbital space by early 2012, had its maiden flight in the California desert in March.
On Friday, the aircraft — re-Christened the VSS Enterprise — will stage a flypass high above the new two-mile (3.2-kilometer) long, 200-foot (60-meter) wide runway in tandem with its mothership, known as WhiteKightTwo or Eve.
"The completion of the runway at Spaceport America (is) a major milestone in the construction of the world?s first purpose-built commercial spaceport," it said in a statement.
Virgin Galactic, which aims to become the world's first company to promote space tourism, has already collected 45 million dollars in deposits from more than 340 people who have reserved seats aboard the six-person craft.
Virgin started taking deposits from people wanting to become astronauts in 2005, and the project is 18 months away from carrying people into space, Branson told a business conference in Malaysia last month.
Fares start at 200,000 dollars, with refundable deposits from 20,000 dollars.
WK2 will carry SpaceshipTwo to an altitude of around 50,000 feet (16 kilometers) before dropping the smaller spaceship and allowing it to fire up its rocket motor to blast up to the brink of space.
Once it has reached suborbital space, SpaceShipTwo passengers will be able to view the Earth from portholes next to their seats, or unbuckle their seatbelts and float in zero gravity.
The aircraft is 60 feet (18 meters) long and its cabin is similar in size to a Falcon 900 executive jet, "allowing maximum room for the astronauts to float in zero gravity," according to the company.
"Each passenger gets the same seating position with two large windows… so that, if you don't want to float free in space, and you'd rather just remain in your seat, you still get a great chance to see the view.
"No more squabbling over who has the best seat!" it adds.
Guests for the runway dedication ceremony include New Mexico Governor Bill Richardson and people who have already paid deposits to be among the first to fly into space aboard the Virgin craft.
In addition to his spaceship project, Branson also has visions of establishing hotels in space, which well-heeled tourists can use as a base for shuttle flights over the moon.
"We are looking at hotels in space. We love the moon," the tycoon said in Kuala Lumpur last month, adding that he was also interested in launching "small satellites into space" for the benefit of schools and universities.