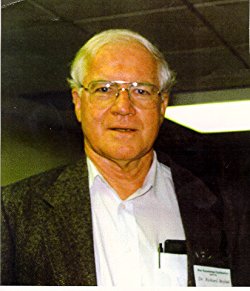 CIA Projects Stargate, Grill Flame, Center Lane, Sunstreak, Scanate, and MK-ULTRA were just the tip of the iceberg. There were many, many other projects, all to do with the intertwined investigation of and experimentation with remote viewing, remote sensing, remote influencing (both mental and physical), mind control, remote mind programming and reprogramming, remote hypnotizing, creation of and utilization of psychic weapons, etc.
Army Lt. General James Channon was one person involved. He developed  the First Earth Battalion Operations Manual using psychic warrior concepts. Some details about these are provided in the book (2004) and movie (2009),  The Men Who Stare at Goats.
Others involved are/were a whole host of shadowy characters in military, intelligence, civilian mil-intel contract work; and as well as operatives of the Cabal. Just some of the people involved are/were:
Glenn B. Wheaton, retired U.S. Army Special Forces sergeant with 5th SFG; psychic and remote viewer; set Ronson on the trail of the "men who stare at goats"Albert Stubblebine, retired Army major general; career military intelligence officer; proponent of psychic warfare, levitation, spoon-bending and walking through wallsJim Channon, retired Army lieutenant colonel; author of the First Earth Battalion Operations Manual; New Age guru and consultantJohn B. Alexander, retired Army colonel; proponent of non-lethal weapons and of military applications of the paranormal; introduced Channon's book to Stubblebine Frederick Holmes "Skip" Atwater, retired Army lieutenant; Gen. Stubblebine's "psychic headhunter"; later president of the Monroe Institute James V. Hardt, research psychologist and expert on the electrophysiological basis of spiritual states; assisted the "men who stare at goats"Steven Halpern, new-age musician consulted by the Army on how to deploy music as a weapon or for mind-control via subliminal messagesGuy Savelli, martial artist and psychic; recruited to work with U.S. Special Forces by Col. Alexander; purportedly "downed" a goat and killed a hamster with his mind alone Pete Brusso, martial artist and psychic; inventor/marketer of a personal self-defense weapon ("the Predator"); Savelli's rival for U.S. military contract workUri Geller, spoon-bending Israeli celebrity psychic entertainer; self-described consultant to the U.S. military Prof. Courtney Brown, Emory University political scientist and paranormal proponent; allegedly barred from the Art Bell radio show after inspiring the Heaven's Gate mass suicide  Prudence Calabrese, psychic who worked with Courtney Brown; also banned from the Art Bell radio showChristopher Cerf, Sesame Street songwriter; song appropriated by U.S. Army PsyOps soldiers in IraqJamal al-Harith, Jamaican-British convert to Islam; subjected to musical weirdness as GTMO prisonerEdward ("Ed") A. Dames, retired Army major, intelligence officer and psychic; frequent guest on the Art Bell radio show; known as "Dr Doom"Joseph McMoneagle, retired Army NCO and chief warrant officer; intelligence officer and psychic; now runs a remote viewing business Lyn Buchanan, retired Army intelligence NCO and psychic; unlike several of his colleagues, did not go on to develop a civilian "psychic franchise" Eric Olson, son of Frank Olson; lifelong activist to uncover cause of his father's mysterious deathBob Ricks, American law enforcement official; incident commander at 1993 Waco siege Norman Cournoyer, Ft. Detrick colleague of Frank Olson; confirmed to Frank's son Eric that, in his view, his father's death was a CIA murderMichael Echanis, self-styled "soldier of fortune" and psychic martial artist; "pin up" icon for Special Forces groupies; died in a 1978 accident in Nicaragua
Gen. Manuel Noriega, superstitious dictator of Panama; exploited sorcery and witchcraft to wield power; nemesis of Gen. Stubblebine
Art Bell, late-night radio host and proponent of all manner of paranormality and conspiracies; mentor to Ed Dames
Tony Robbins, self-help guru and firewalker; mentor to Gen. Stubblebine
Frank Burns, retired Army colonel and Internet pioneer; purportedly coined (with Channon) the Army's '80s recruiting slogan "Be All That You Can Be"
Igor Smirnov, Russian psychiatrist; mind-control and thought projection expert; consulted by FBI during the 1993 Waco siege
Frank Olson, American bacteriologist and Army bio-weaponeer; died in 1953 in tragic CIA misadventure
Sidney Gottlieb, American chemist and CIA spymaster; dosed Frank Olson with LSD days before his death
"Dr. Bucha", U.S. Army scientist who, in the 1950s, investigated tactical uses of helicopter flicker vertigo; may be an urban legend as no one knows his first name
David Koresh, American leader of the Branch Davidians religious sect; subjected to musical weirdness and finally killed during 1993 Waco siege.
Of note too is that there will be CIA involvement when extraterrestrial aliens arrive here on Earth: "The CIA reportedly is also a member of an Incident Response Team to investigate UFO landings, if one should occur."   (Presumably because the CIA could field one or more operatives uber-talented in telepathic communication – the preferred manner of communicating of the Star Visitors.)
After the 9/11 [2001] attack, the NSA also got into the psychic spying/warfare business.
Of interest is that one of the sources who provided information concerning the post-9/11 NSA psychic program given to investigative author Gus Russo claimed that some of the operations to remote-view foreign intelligence targets had been blocked by "an unknown extraterrestrial source," suggesting the NSA's psychic research program involves more than psychic perceptions.
The Defense Intelligence Agency (DIA) also is working in the same psychic research-and-development areas as the CIA and NSA.
When Darth Vader talked about the Dark Side, fiction notwithstanding, there really is a real Dark Side. The behind-the-curtain controllers, The Cabal have mastered [sort-of] all of the above research and experimentation to assemble a formidable armamentarium of psychic warfare instrumentalities. A big part of the Cabal's power is that can remotely target anyone at any time in any location in the world and psychically or psychotronically "read" and attack them. And leave no fingerprints.
What the Cabal hadn't reckoned on was the Star Seeds are more powerful than any psychic weapon – (once the Star Seed is aware that he/she is being attacked or remote-influenced by said psychic weapons!)
Wendi,  I am in awe of your endurance.  As are Star Nations High Council.
Like the Timex slogan goes, you 'take a licking and keep on ticking.'
After Public Acknowledgment of Star Visitors [soon], there will need to be a globally-televised public assembly, Wendi, at which you are awarded a  Distinguished Service and Heroism Award for all you have been through and survived at the hands of the Cabal.
Be well, Wendi-san.
Namaste.
Richard Boylan, Ph.D.
Councillor of Earth