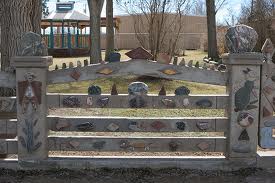 A man called Pop Shaffer in the early 1900's came to Mountainair, New Mexico. He was a blacksmith, a merchant, a horse trader, a land speculator, and an artist. He was also a builder; he helped construct his hotel out of non-burning material, cast concrete and iron fractions. His original house in Mountainair burned to the ground. After he finished the hotel, he started building this amazing concrete fence and gate, which is worth the drive just to see it.
The Santa Fe Railroad helped grow this little town into "The Pinto Bean Capital of the World" and also the "Gateway to the Ancient Cities" because nearby are ancient pueblos, missions and ruins of very old villages. That leads us to the strangeness of the area and especially the hotel. First I would like to mention our wonderful hosts and tour guides Jerry and Elma Pack, the present owners. They told many stories of ghosts that inhabited the hotel. I believe the ghosts are hanging around for several reasons. Firstly, ghosts love buildings that do not burn; they don't like fire. Second, they are welcomed by the present and past owners. And thirdly, the hotel is probably located in a major vortex area, easy for them (ghosts and more) to move back and forth between worlds.
Ghosts and probably other entities appear fairly often in the beautiful outfitted rooms with amazing art and antiques. My companions on this trip were constantly feeling these child-like presences moving around us. The hotel has been the setting of two movies, three episodes of Ghost Whisperer and one Ghost Hunters program. President Roosevelt also stayed there many years ago. This is a high swirling energy place. A few of the ghost stories are as follows, there is a small girl that stays in one particular room –upstairs facing the street and she is seen mainly on a full moon moving around in the room in the middle of the night. Next, a short young man wearing a Zoot suit hangs in and around the elevator. And there is the ghost of a young woman who had a bad deed done to her in what is presently the hotel laundry room.
And I didn't mention the wonderful restaurant, with more artwork, including an amazing ceiling, and the food is great. Come by to meet Jerry and Elma. Sit down and have some lunch, and ask for a hotel tour. Tell them the UFO/Paranormal Forum group sent you. Enjoy the tastes, the sights, the sounds and most of all– the feelings.
Learn more about the Shaffer Hotel in Mountainair New Mexico. Shaffer Hotel
Sleep Tight – History tells the truth.
MWiz.