This man was an American businessman, aviator, sailor and adventurer. This man's body was finally recovered from a violent plane clash in the Sierra Nevada Mountains on Oct.2th 2008. What drove this man? He was driven by adventure, competition, lack of fear and the desire to go beyond, way beyond where normal man has gone.
A few of his accomplishments include the first ever around the world air balloon record in 2002, sailed around the world in 2004, and the World Solo Glider record in 2005. He has a total of 93 world aviation records, 23 world sailing records, and also mountain climbing and cross-country skiing records.
So why didn't this man leave a flight plan behind with his family and why did he leave behind his prized GPS watch. Are these events just coincidences? Maybe? Maybe not? A week after he was reported missing and the most expensive rescue search in American history was launched, a close friend of mine, a renowned dowser, had located the crash site with his trusty dowsing rods less than 50 miles from the actual crash site. On the surface that wouldn't seem like a close psychic hit, but the search party was searching a 175,000 sq. mile area.
Back in August of 2008, I wrote a posting on this adventurer and the possibility he had entered a vortex area and was enjoying a sabbatical with a group a friendly, cool alien beings (see August 16, 2008 "His Magical Vortex"). I will say with no doubt in my mind and no doubt in my heart this amazing American has flown among the UFOs. For his courage and determination would have bought them (our alien visitors) close in to see who this crazy human was and why fear in life never crossed his mind.
To have fear is to be small and to have no fear is to be infinitely large
To you, Steve Fossett, I hope you are enjoying your next great adventure—fly high.
In peace and love, —MWiz.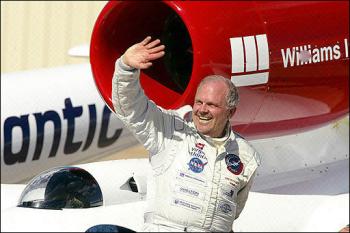 Good Bye and Fly High.