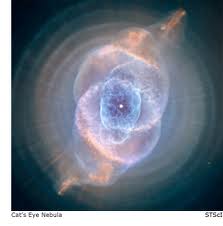 Aug 21, 2011; 3:37 PM ET
Earth's aurorae, or Northern and Southern Lights, provide a dazzling light show to people living in the polar regions. Shimmering curtains of green and red undulate across the sky like a living thing. New research shows that aurorae on distant "hot Jupiters" could be 100-1000 times brighter than Earthly aurorae. They also would ripple from equator to poles (due to the planet's proximity to any stellar eruptions), treating the entire planet to an otherworldly spectacle.
"I'd love to get a reservation on a tour to see these aurorae!" said lead author Ofer Cohen, a SHINE-NSF postdoctoral fellow at the Harvard-Smithsonian Center for Astrophysics (CfA).
The alien gas giant would be subjected to extreme forces. In our solar system, a CME spreads out as it travels through space, so it's more diffuse once it reaches us. A "hot Jupiter" would feel a stronger and more focused blast, like the difference between being 100 miles from an erupting volcano or one mile away.
"The impact to the exoplanet would be completely different than what we see in our solar system, and much more violent," said co-author Vinay Kashyap of CfA.
In the model, a CME (coronal mass ejection) hits the "hot Jupiter" and weakens its magnetic shield. Then CME particles reach the gas giant's atmosphere. Its aurora lights up in a ring around the equator, 100-1000 times more energetic than Earthly aurorae. Over the course of about 6 hours, the aurora then ripples up and down toward the planet's north and south poles before gradually fading away.
Please join the AccuWeather.com Astronomy fanpage by clicking here. You can leave your comments there, as well, and be part of a community where discussions on this or any other astronomy subject take place. We are now over 1,750 likes on Facebook and recently the growth has been rapid. With your help we will get to 2,000 soon. Tell your friends about this site and blog and weigh in on some exciting issues. We encourage open discussion and will never criticize any idea, and no negative conversation will be allowed.
blogs Home >
Comments
Comments left here should adhere to the AccuWeather.com Community Guidelines. Profanity, personal attacks, and spam will not be tolerated.