Arriving Friday evening in Hooper, Colorado at the UFO Watchtower, which is located twenty-two miles North of Alamosa, Colorado on Hwy. 17. Judy Messoline, owner/author of the UFO Watchtower has held yearly conferences since she opened the domed UFO Information Center. Surrounded on three sides are mountains. Hooper is located in what is referred to as "The Valley". The mountain range on the East side of Hooper are the San Luis Mountains. This particular mountain range has become somewhat famous because it is known that an extraterrestrial base is located within this mountain range.
I've attended these conferences for the last six years. Other than speaking as I have in the past to a small crowd of people and seeing it develop into a large audience as "The UFOlympics" grows in attendance yearly. Well known speakers over the years have come to tell their stories and educate abductees, as well as people who are just interested in this phenomenon.
This year's speakers were: Alejandro T. Rojas; MUFON Investigator. Stan Romanek; Abductee-Experiencer. Joe Fex; Sasquatch and Paranormal Investigator. Chuck Zukowski and his sister Debbie Ziegelmeyer; Investigators and heavily involved in the 1947 Roswell Crash Incident Dig Team. Paola Harris; Italian Photo Journalist, Investigator and lecturer on UFO's. Priscilla Wolf; storyteller, artist, author, medicine woman. Dr. Claude Swanson; Physicist at MIT and Princeton University.
An extra-ordinary team that was put together by Judy to inform and educate those in attendance.
Unknown to Judy was a very important guest who arrived unexpectedly, to the occasion. This guest was an UNINVITED guest who chose to be the hit of the conference with its known confirmation for everyone there!!
No…no, I am not speaking of the horrific rain that was experienced by all. The rain the locals said they had never experienced such a storm as we had that Saturday evening that caused flooding and as the strong rain seeped into everyone's tents (those that were camping in tents) and getting everyone's sleeping bags, camping gear, food etc. totally wet! We all prevailed and the 2007 UFOlympics went on.
Alejandro Rojas welcomed the crowd and spoke on UFO updates and reports from the last year in Colorado and worldwide. He stated that Colorado Mufon has about 40 reports per month via the Mufon website and hot line. He did show pictures that people worldwide have shared with Colorado Mufon.
Paola Harris captured the audience with her talk. She shared pictures of interviews with Philip Corsco, John Mack, and other important men and women whom she has interviewed throughout the years. I did not know that Orbs had distinctive faces on them. What caught our eyes through her research she shared footage in regard to a human made space ship that does fly and this human made round space ship does mimic an extraterrestrial space ship to the "T" as it quickly zipped out of site of the area where it was being shown at. Talk about alien technology…..Yes, I think the aliens gave the technology so that humans could build their own space ship.
Chuck Zukowski and Debbie Ziegelmeyer shared about the 1947 crash in Corona, NM and subsequently the craft pieces and alien bodies that were recovered and were taken to Roswell, NM. There is belief that two space ships crashed sending debris in and around St. Augustine. Through their investigations they shared about reports they had received in regard of something affecting the farmers' cows to where the cows did turn white! Chuck and Debbie, I think you have another large investigation upon you and perhaps you will find more evidence to support the truth of the now famous extraterrestrial craft (s) that crashed in 1947.
Oh my!! Some people are hollering outside of the building, a lot of commotion going on…making everyone in the building run quickly outside! What is the excitement!! "Look up, "In that direction!" "we are told". All camera's are out and pointing to one specific area in the sky. The excitement is unbearable—"Its long narrow and white" "Did you see it!" "Did you see it?" "No! Not that silver object—that is an airplane"—as it flew into the clouds. "There are two of them now"! Meaning the long white objects. "Did you get a picture"? "Did you get it on film"? The excitement was so great as the white clouds revealed its secret and to our surprise we were shown by Stan Romanek in the afternoon session of his talk! With much awe: Here is the uninvited guest or guests to the 2007 UFOlympics!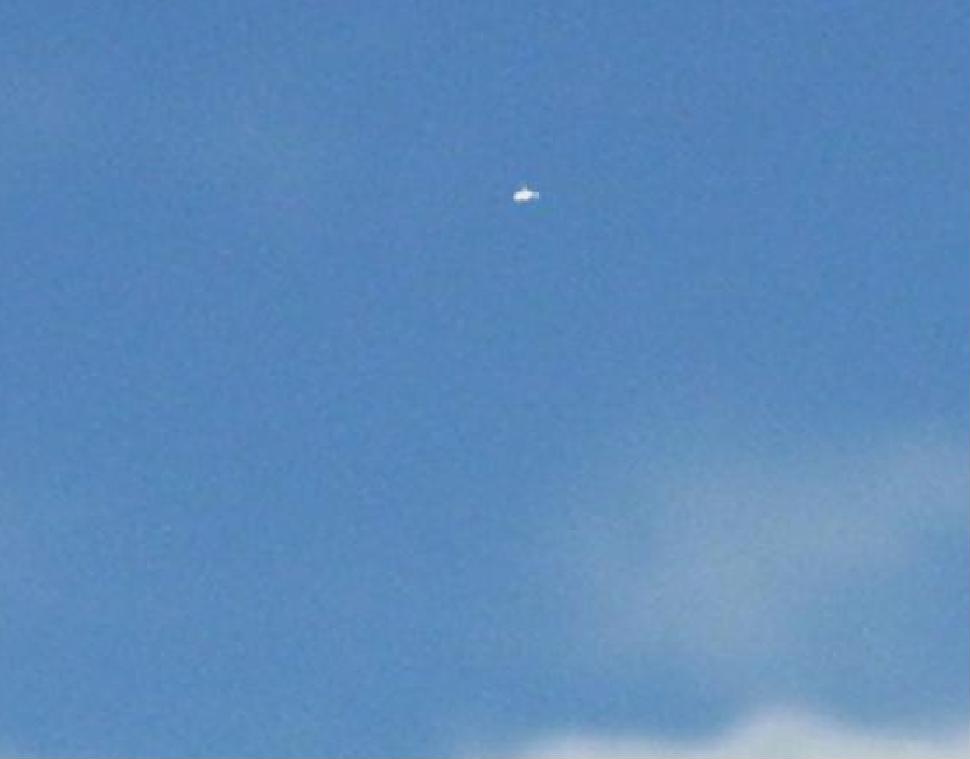 Yes, that's right!! The UFOlympics that was held on July 28th and 29th, 2007
Pictures Copyrighted: Stan Romanek
Stan Romanek, Shared his life as an abductee and experiencer using the "tools" of CD footage. Stan's abductions began early in his life. He is one in a very few who were smart enough to begin and having a still or video camera with him at all times. Thus he was able to share film footage of sightings of possible extraterrestrial ships, objects, Orbs, and oh yes, two different pictures that were taken of two alien Grey's. Stan over the years has collected many witnesses along with the many photographs, physical evidence, police and doctor's reports along with scientific analysis which have confirmed the validity of his experiences in this unusual phenomena. Very interesting workshop Stan, and a lot of confirmation in what you had to share with everyone.
Joe Fex, who captured the audience with "Sasquatch" experiences and information. Sharing with the audience a variety of photos of Sasquatch, space ships, maps of paranormal happenings.
Dr. Claude Swanson has done a lot of research as a physicist in this strange phenomenon and with his knowledge has decoded the written information that was given to Stan by the alien extraterrestrials involving worm holes, as one example. I'm sure glad we have someone on our side like Dr. Claude Swanson with his knowledge, interest in this strange phenomenon to decipher information given to many abductees in technology.
Priscilla Wolf , is such an intuitive Native American who comes and shares the knowledge that Native Americans have known I think forever in regard to extraterrestrials. Her story telling brings the confirmation even closer to you. I was unable to attend the drumming part of her workshop as we were trying to protect the very large tent that I was a guest in from collapse from the most horrific pounding rain. I was told though that when Priscilla began a certain part of her workshop, the rain seemed to have just let up or even stopped! Thank you Priscilla!