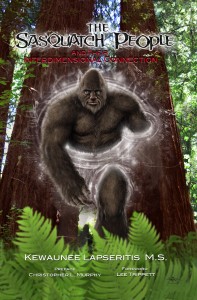 During the last 30 years, I have taken many amazing trips to explore the unseen world. During the last 15 years, many of my mini-expeditions were with my dear friend Kewaunee Lapseritis. We explored vortex areas in Montana, Idaho, and Washington. One of our main objectives was to search for and contact Sasquatch. Well each one of the Kewaunee trips has been a true adventure, and I am very grateful to have been a part of these journeys. We have seen and experienced things that most people just dream about.
We have felt the presence of Bigfoot, have seen their tracks, and have watched their amazing ability to change the local weather. Kewaunee has telepathied with them numerous times during our trips. As I was trying to catch a Bigfoot peeking around the corner of a tree, I accidentally got introduced to vortex photography, and it has been my passion for the last 5 years. If you would like to see some of the pictures, search "vortex" on this website in upper right corner and there will be a series of posts with some very interesting photos for you to examine.
So now I have to prepare for our next adventure. This time our primary focus will be to contact in the flesh or telepathically with Mr. and/or Mrs. Bigfoot. I feel ready for the experiences although I must say- are you ever REALLY ready for such an incredible event? During the next several weeks I will condition myself to be at peace, and start quieting my mind from the normal busy world. I must shift to the edge of another dimension, so I am ready to have the experience of a lifetime. This mind preparation will also sharpen my ability to see the Wee people, fairies, elves and elementals. And of course my vortex photography will be an important part of the trip, as I look through the veil.
So sleep tight – I hope you all will experience an inter-dimensional event in your near future.
MWiz.