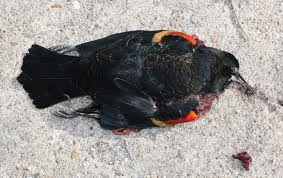 BEEBE, Ark. — Environmental service workers finished picking up the carcasses on Sunday of about 5,000 red-winged blackbirds that fell dead from the sky in a central Arkansas town.
Mike Robertson, the mayor in Beebe, told The Associated Press the last dead bird was removed about 11 a.m. Sunday in the town about 40 miles northeast of Little Rock. He said 12 to 15 workers, hired by the city to do the cleanup, wore environmental-protection suits for the task.
The birds had fallen Friday night over a 1-mile area of Beebe, and an aerial survey indicated that no other dead birds were found outside of that area. The workers from U.S. Environmental Services started the cleanup Saturday.
Robertson said the workers wore the suits as a matter of routine and not out of fear that the birds might be contaminated. He said speculation on the cause is not focusing on disease or poisoning.
Several hundred thousand red-winged blackbirds have used a wooded area in the town as a roost for the past several years, he said. Robertson and other officials went to the roost area over the weekend and found no dead birds on the ground.
"That pretty much rules out an illness" or poisoning, the mayor said.
Arkansas Game and Fish Commission ornithologist Karen Rowe said Saturday the birds showed physical trauma, and speculated that "the flock could have been hit by lightning or high-altitude hail."
The commission said that New Year's Eve revelers shooting off fireworks could have startled the birds from their roost and caused them to die from stress.
Robby King, a wildlife officer for the commission, collected about 65 dead birds, which will be sent for testing to the state Livestock and Poultry Commission lab and the National Wildlife Health Center lab in Madison, Wis.
From Huffington Post -AP