breakthematrix.com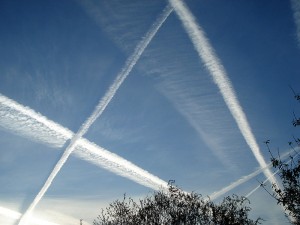 NOVEMBER 21, 2011 ·
Most Americans still believe that our weather patterns are 100% natural and that our government has absolutely no control over the weather. Unfortunately, that is not the case at all. What you are about to read is evidence that weather modification is happening right now all over the United States. This is never acknowledged by our politicians and it is never talked about by the mainstream media. But it is very, very real. Weather modification programs in some parts of the country have been going on for many years and evidence of these programs is hidden in plain view. So does this mean that if we don't like the weather we can just blame the government? Well, yes it does, but it also means that the government has been seriously messing around with our environment and there could be "unintended consequences" that are far more dramatic than any of us ever dared to imagine.
Those that believed that the government was involved in weather modification were once considered to be "kooks", but the truth is that authorities aren't even trying to hide it anymore. For example, the following was recently posted in the "Legal Notices" section of the classified ads in a local newspaper called The Tribune in San Luis Obispo, California….
NOTICE OF INTENTION WEATHER MODIFICATION PROGRAM THE SANTA BARBARA COUNTY WATER AGENCY HEREBY GIVES NOTICE OF INTENTION TO CONDUCT A WEATHER MODIFICATION PROGRAM NATURE AND PURPOSE: The purpose of the project is to increase rainfall to help alleviate deficiencies of water supplies in Santa Barbara County. Clouds would be seeded by the dispersal of Silver Iodide (AgI). Two possible modes of seeding, air based and ground based, would be used. LOCATION OF PURPOSE: Project operations could be conducted during the period between November 15 and April 15, for each year, 2011-2012 through 2015-2016. Airborne seeding operations would utilize air space over Santa Barbara County, portions of San Luis Obispo County as well as the Pacific Ocean immediately west of Santa Barbara and San Luis Obispo Counties. Ground based seeding operations would be conducted from the Santa Ynez Mountains, the Casmalia Hills and the San Rafael Mountains. The target areas for seeding operations are the watersheds behind Cachuma and Gibraltar reservoirs on the Santa Ynez River as well as Twitchell reservoir on the Cuyama River. LICENSEE: The project would be operated and supervised by a licensed weather modification consultant.