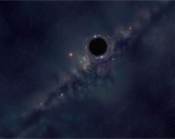 But substance itself that may be accelerating universe's expansion still a mystery
Below:
The galaxy cluster Abell 1689 is famous for the way it bends light in a phenomenon called gravitational lensing. A new study of the cluster is revealing secrets about how dark energy shapes the universe.
updated 9/13/2012 7:59:38 PM ET 2012-09-13T23:59:38
Print Font: +-Dark energy, the mysterious substance thought to be accelerating the expansion of the universe, almost certainly exists despite some astronomers' doubts, a new study says.
After a two-year study, an international team of researchers concludes that the probability of dark energy being real stands at 99.996 percent. But the scientists still don't know what the stuff is.
"Dark energy is one of the great scientific mysteries of our time, so it isn't surprising that so many researchers question its existence," co-author Bob Nichol, of the University of Portsmouth in Engalnd, said in a statement. "But with our new work we're more confident than ever that this exotic component of the universe is real — even if we still have no idea what it consists of."
..The roots of dark energy
Scientists have known since the 1920s that the universe is expanding. Most assumed that gravity would slow this expansion gradually, or even cause the universe to begin contracting one day. [8 Baffling Astronomy Mysteries]
But in 1998, two separate teams of researchers discovered that the universe's expansion is actually speeding up. In the wake of this shocking find — which earned three of the discoverers the Nobel Prize in Physics in 2011 — researchers proposed the existence of dark energy, an enigmatic force pushing the cosmos apart.
Dark energy is thought to make up 73 percent of the universe, though no one can say exactly what it is. (Twenty-three percent of the universe is similarly strange dark matter, scientists say, while the remaining 4 percent is "normal" matter that we can see and feel.)
Still, not all astronomers are convinced that dark energy is real, and many have been trying to confirm its existence for the past decade or so.