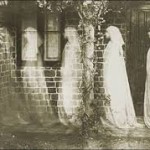 I was in Salt Lake City over the weekend and my fiancee and we were house searching for our future home there. It's a beautiful city and like all cities there are places where spirits hang out. So on this trip we met five ghosts in one house we were looking at. As we walked into the house, there was a feeling like we were walking through a spider web and strange psychic veil. We had to blink several times to remove the feeling. The lighting inside was darker than expected with minimum coverings on the window, almost like there was some screening over the windows. Spirits like it darker than live humans. The bedrooms were depressingly dark.
My fiancee, who is a powerful empath, noticed the smell of the spirits which is similar to an earthy, damp, dark, after-life smell. She encountered the first spirit in the kitchen, she was a female in her middle 30's to early 40s, blonde and young feeling who seemed to hang out mostly in the kitchen. She had not died in the house so we don't know how she got there. Next in the basement she encountered the other four spirits. One of them had a grandpa feeling, as my fiancee walked deeper into the basement, she met the leader of the group. He was a young aggressive male, died in his late 20's of TB or some other consuming disease. He was a very unhappy soul. This young male was about 5'10" blonde hair and gave off a powerful feeling, that felt like he didn't want us there. My fiancee suddenly got pressure (a strong headache) on the top her head and chest pressure. She got the impression that if a person was alone, down in the basement, they could be locked in with unimaginable scary things coming at them or done to them.
The other male and female in the house gave off a presence but no other identifiable traits, except they were both controlled by the aggressive male. So you probably guessed we didn't take the house. There would be times a ghost or two in your house would not be a problem, for it is very possible to co-exist with them. They can even be good house-sitters when you are away, and no harm would come to the house, for it is their home also.
Sleep tight, if you have a Casper, you can always sleep in peace.
MWiz.