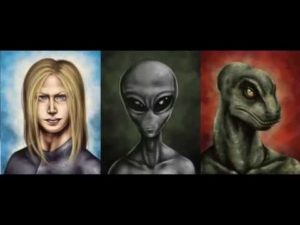 Now, back to my experience that happened in October.
My time here in Utah has been hard on my body and mental state. I think the large Granite Mountains by where we live are part of the problem. But for the Reptilians, they thrive here especially in the mountains.
My dreams for quite some time have been almost taken over at times which is something unusual for me. The first time I felt I lost control was because of a female Reptilian. She was tall and very plain looking with a tall body and flat chested. She looked male but I knew she was female. She told me she was my handler and that she has been from an early age.
She was uncomfortably possessive and sexually attracted to me which was totally creepy for me. She stated that she doesn't like that Michael and I are intimate and made it clear I was hers. Her species are morphodites with both male and female organs which I guess accounts for her being aggressive. I was told it was to their advantage to be given both genitalia considering the variable circumstances they encounter.
She showed me a white book with symbols of circles, rectangles, squares and pyramids. She read the book to me pushing each page slightly forward. The symbols turned into a dialect when she angled the pages. The symbols were like cut outs on each page. She had me trace a rectangle with a blue pen. The page moved as I traced it but I wasn't skilled at it and looked like a kindergartner because I didn't have her control.
Black out.
Next I found myself in a pool of really warm water and I realized at that moment that the Reptilians like their water warm basically too hot for humans. It was relaxing at first but I was beyond hot and I knew my body temperature had gone way up. I remember feeling hot under the covers and in the dead of winter threw the covers off me.
The information I gathered from the book and female Reptilian was:
1. They can create energy as hot as the sun.
2. They can control and contain this energy and use it for space craft and other uses.
3. They are considered dangerous because they are more technically advanced than other races. She is part of a rogue faction that rebelled against their leaders. This makes them especially dangerous.
4. They are a ruling class of Saurian's who travel around looking for better suited planets to subjugate but they seem to be more parasitic especially when dealing with dominating other races.
She made it clear she considered me property and that I was enslaved to her race based on government contracts going back way before I was born. I don't necessarily feel enslaved and I think it's more a mind game than anything. She told me she was around me when I was being taken to bases and other areas such as Los Alamos, NM as a little girl as well as other underground facilities. She also stated that she keeps others away from me. My feeling on this is that when a human has a contract on them, that particular alien race has carte blanche with them until they either die or the interest wears off. It seems to be more so than not, that only death can break the contract.
This is really the only experience I have had with Reptilians. They don't seem to come around a lot and to be honest; I have no idea why she came around to start with. The only thing I can think of – it's this location. The Wasatch Mountains are mysterious and they seem to hold secrets. It's interesting how Michael and I ended up in a location surrounded by mountains, the Great Salt Lake valley and rolling hills.
Coincidence …?
Rainbow