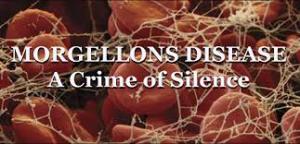 The assault on humanity continues as new things are added to the arsenal of madness. I have written several posts on the generic chemtrails that how been used to modify the weather , maybe even stem the tide of global warming, which in reality has made it worse., as they had miscalculated the greenhouse effect the heavy metal also creates. This process pretty much negates any positive reflection of solar heat back to space. And this leaves us with barium, cadmium, aluminum and other bad stuff for living things to deal with.
But now there is more, a deeper walk down the path of darkness, an aerial vaccination delivery system, maybe more correctly called a nano gene delivery system. Fibers –filaments are falling from the skies, some too small to see with-out a microscope, and others forming large web-like filaments that covers trees and cars around the country. These are not natural, they can be cultured in a lab, they are or very similar to a strange skin disease called Morgellons, lesions that grow fibers out of them and don't seem to harm the person or animal but look like hell.
The more frightening element is that some of the filaments that have been recovered contain human red blood cells. If these cells are modified and laced with a deadly microbe or even a straight out toxin, goodbye us, a way mankind could thin their own herd. The first samples of these filament particles in the mountain close to my home in New Mexico – Land of" strange" Enchantment .
There is another source theory of these filaments, one strangely could be a new way an alien being race could modify our DNA, hopefully for the better. If we inhaled these tiny filaments they would embed in our lungs and drop off their cargo, (DNA replacement strands or add-on particles) carried in a human blood envelope. Once the delivery is made into our bloodstream, the remaining empty filaments turn into a lung irritation and the empty carriers are coughed out of the body. It would be possible that not all the filaments would release their cargo and some of the coughed out particles (like a virus) could be spread to other humans.
Sleep tight, Hey remember – these cargo filaments could make us better, smarter and happier – the New Earth Human.
MWiz.