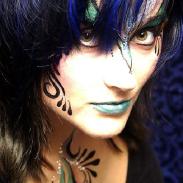 It holds us back from being, that is, being the new human. A primarily right-brained being, a gentler, questioning being, a being capable of massive amounts of love. Just the amount of unconditional love from one of these new humans will counter 1,000 negative beings of the old model type. So if my math is correct, we need only about seven million of these new humans to change the other 7 billion people that inhabit the earth. So this means one tenth of 1% of the world population can change it all.
I believe the timeframe for this change will be less than 6 months. Our cherished worldview will be shattered. The reign of human tyranny will end. Human beings will finally understand that working with the natural world is the only way we will survive. Just truly recognizing that fact will forever change us. Our report card will be graded on how many species of living things are not dying off.
The catalyst of this new being will be the appearance of our far future self. This will trigger a chain reaction in our inner mind, the reaction is just waiting for the signal and it is coming sooner than most think. The precursor may be symbols, tuning us for the change such as 1111 and powerful visuals such as Crop Circles.
And please don't think of our future selves as a God or Gods, even though we can do it all; we are all creators. The New Human will harness the total force of the quantum field and use it to shape and form everything around him. The New human being will regain their past place in the Galactic Community – as the kind ones with the full emotional bodies. The tide of Human transformation is upon us. Take a very deep breath and mentally prepare for the journey. Our present worldview is the chains that keep us from being who we were meant to be – a fearless living creature whose only purpose is to create unconditional LOVE.
Sleep Tight, with no fear our new self is nearly here.
MWiz