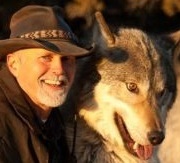 For our January meeting, we had a delightful visit from Leyton and Rory, who run an amazing wolf sanctuary in western New Mexico.
They gave us a history about the sanctuary and several stories about the many wild wolves and dog wolves and a small group of domestic dogs that live and are protected on the sanctuary property. It sounds like a great place to tour and enjoy the beauty of that part of New Mexico.
Both of these men have lived lives loaded with encounters with creatures/beings maybe even more a mystery than the wolves themselves. I must note that I have always thought of wolves as much more than canines, they are like sacred beings with amazing powers.
I was talking to my dentist who is Muslim and talked about wolves in her culture as creatures that would control/kill evil Jinn. Jinn are creatures that are from the unseen, from another dimension, which can visit the earth dimension and cause harm to humans. Once the Jinn spot a wolf in pursuit the Jinn will die quickly at the hands of the wolf. So the wolf in that culture is a good being to have around.
One of the sanctuary shepherds had UFO/Alien encounters as a small boy, almost like he was in training to take care of the wolves, this special group of beings. But not all his encounters with beings were good. He was shown the brutalization of humans, which caused total distress as he saw a woman be cut open by a lady in black on a UFO ship. He also fought with reptilians as they tried to hurt him and possibly his family.
The other shepherds had many interesting encounters with Bigfoot in Washington, California, and New Mexico. But in these encounters all went well. This good outcome is driving him to have more encounters with the gentle giant hairy ones.
I predict that their encounters will continue for they possess the special energy and courage to face, the hidden and the unknown. The wolf in them will protect them from the Jinn.
Sleep Tight, to fear is to be small, to be fearless is to be huge.
MWiz