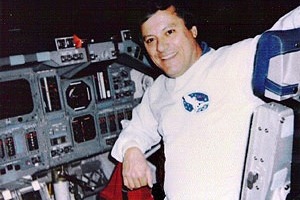 Our SpaceCraft Operator Friend is a quite famous and controversial man named Clark McClellan. Clark was the Mission control flight director for many of the NASA shuttle missions back in the '80s and 90's. Clark later in his career became a whistleblower on many of the policies  NASA was withholding or not telling the truth about. Of course, he lost his job and lost his pension and is now living only on Social Security. His health has deteriorated from a long fight with diabetes resulting in the lower part of one leg being removed. On the same day lost his beloved angel, his fiancee to cancer. He is an unhappy place, lonely and in poverty, not the way a hero should be. But as we have seen over the years whistle-blowers face being ostracized by society, with only the cosmos to thank them for their efforts.
Rainbow and I spoke with Clark last weekend he was in a depressed state but still had his fighting spirit. We talked about many things, but I would like to talk about Clark's feeling about the reality of our spiritual realm. Clark is a spiritual person and not a religious one, in fact, he has very little good to say about organized religion. Clark has coined a word called Celestialism, which I believe is the concept of the straight pure Universal Energy that created all and continues to guide ALL that it created on its free course through the eons of time. This is a simple yet powerful concept that the Cosmos created itself and continues to create with no end in sight.
And may I add beyond Clark's concept, that this Celestialism has imprinted in all the entities in the Universe the ability to also create through intention, through the Quantum physics, so we are all-powerful beings, we have just all forgotten how.
Sleep tight, Have faith in yourself, not in an organization that controls you with their faith.
MWiz