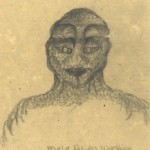 Please note that if you wish to use this drawing, please ask me first. All my drawings are copyrighted.
Sometimes I get information which can become very scary especially for the very fact that I don't go looking for it. This is one of those incidences where I was shown information by being placed in a specific location. In this instance I was in a Russian underground base in a location where there was a huge room cut out of rock with innumerable uniformed military soldiers who where in-front of screens that looked like holographic images. There seemed to be 3 screens in-front of each soldier. I had assumed they were either engineers or had special training in the specific programs they were working in.
Before I get ahead of myself too far, let me set the location first. I went to bed one evening and fell asleep quickly. All of a sudden, I found myself in a woman's bathroom that was large with deep basins for washing up with long curved water faucets that reminded me more of a laundry room service. All the women spoke Russian. I had washed my face and felt the cool water on me which felt odd since I could feel the duality of both places, especially with my bed-sheets around me from my own bed. The women were military and it seemed like everyone was hastily getting dressed and cleaned up for the day.
I walked out of the washroom and sat down onto a top bunk bed that seemed to be familiar to me so I could only assume it was mine. I could look out and see the extremely large room beyond my bed that had the row upon rows of holographic screens on top of desks. I was talking to a soldier closest to me and I can only presume I spoke Russian with him. I asked him pointed questions about what he was doing. He was very evasive at first, more flirting with me than anything. I was trying to keep the conversation going when all of a sudden an uncomfortable feeling washed over me and I started to get very afraid. The soldier looked very uncomfortable and he told me gruffly, that I didn't want to know what was going on. At that moment I threw the covers over my head and tried to hide … from what I felt was coming my way.
A huge Alien walked past me and in my minds eye, I saw he was massive in size with the stature of a giant. He was minimum 7'5″ to ten feet high. His skull had two protruding bone like rims in the forehead area. His skin was like a dinosaurs with protuberance like bumps coming up from his skin. His neck was extremely think and his shoulders and chest area were bulky and massive. Even though I was hiding under the blanket, he was able to show himself to me with a type of telepathic ability that was invasive and intimidating. He wanted me to see him and it seemed to give him pleasure knowing that he made me intimidated and uncomfortable.
The soldier didn't look at the Alien as he walked by but I could tell he was ready to pass out! I pulled the covers off my head and watched the Alien walk into the massive room where the soldiers where sitting at their desks but I have to say, what struck me odd was that not any of the soldiers freaked out with his presence or indicated that he wasn't suppose to be there. I knew immediately that this was what the soldier I was talking to meant when he said, I didn't want to know what was going on.
I woke up feeling exhausted and quite literally felt like I had jet lag as if I had flown in the evening before. It took two days to fully recover from this experience but fortunately days later more information came to me.
The Alien group working with the Russians, have come a long ways in pursuit of our planet. They require some sort of mineral and they have found that we have a lot of it here on planet Earth. There have been a few ghost towns here in the US that have been bought recently for the very purpose of mining the mineral this group of Aliens need. From what I learned, this Alien race is trading their technology with the Russians. This includes their type of spacecraft which are fast, evasive and made for attack advances. They are a warrior class of Aliens who don't really fear much and they decided that the Russians best fit their ideologies and ethics.
If more comes to me, I will let you all know.
By Rainbow