The plane landed in Spokane, WA. at 6:20 P.M., on June 7, 2007. Ms. Joy French from Coeur d'Alene the coordinator of the UFO meeting to be held in Coeur d' Alene on June 9th, met me at the airport. I was to be the main speaker at this UFO meeting which the itinerary and purpose was to get the message to the United States Government who needs to acknowledge and release their knowledge of this phenomenon as it is the "right" of the peoples to know the truth of the involvement in regard to the U.S. Government's involvement. Also, to share my knowledge of alien/MILAB abduction experiences.
After enjoying a lovely dinner with Joy we arrived at her condominium in Coeur d' Alene to a continued flood of telephone calls.
Ms. French had worked hard organizing this meeting in the previous months. She had been interviewed by the Coeur d'Alene newspaper in regard to her unusual UFO experience and was also interviewed by a local radio station. Using these two mediums and using flyers posted all over town. What she set out to do was accomplished and basically her hard labors paid off. The newspaper kept up with following articles even on the day of the "meeting".
Arriving late that evening to her condominium she had already stated that her telephone had not stopped ringing since the first interviews. Yes, she had her telephone number in the newspaper articles, and gave out her phone number over the radio. That night I was continually contacted by phone by various people throughout Idaho looking for answers for themselves in regard to Alien Abductions. I spoke with a lady who works in the mental heath field wanting direction on "how to help" two serious cases involving two patients who are alien abductees and seemingly because they felt they could not talk to anyone over the years their results ended with mental health issues. From that night on via telephone calls, I was told over again many times of alien abductees being severely "labeled" as "crazy" or being "insane" and some of the abductees who in fact did try to speak out evidently paid a negative consequence. The humiliation was unbearable for these people.
Friday morning Joy and I walked the Boardwalk located in the area of the huge lake as she continued telling and informing me of the phone calls, and people she met on the streets (per se) that just would walk up to her and began to relate to Joy their stories of abductions or of "sightings" that they had experienced in Coeur d'Alene. The stories were quite overwhelming as is the question I began to ponder is Coeur d'Alene a hot spot for sightings and abductions? Later that morning stopping in at the Coeur d'Alene Newspaper Company, we then continued our walk through the main street of Coeur d'Alene. Joy stopped in on the many businesses' she previously dealt with as she volunteered on many city wide projects. Once again meeting many people, I stood, hearing their own stories. I was given so many "thank you's" for listening to them and for understanding, and to have someone finally who understood. The many gratitude's, and graciousness was a continued offering from these peoples towards me. Yes I also experienced the "negative" close minded couple who verbally ridiculed us. This is their problem for not being opened minded to this phenomenon and to their further learning. At a party Friday evening the people in attendance were respectful and interested in this phenomenon.
Saturday morning was no different as the constant phone calls kept coming in. I had already been informed with the knowledge which had been confirmed by many that Coeur d'Alene was a prejudice city and that the state of Idaho is as well. Many alien abductees spoke in detail of their lives living with this phenomenon and living in a city or state where the majority of peoples are "close minded" not only to this phenomenon but other "biased" facts as well. Thus story after story I was hearing how these alien abductees where dealing with the "unaccepted" alien experiences which they could not deal with because they were considered "insane" and just being an "out cast". The majority of voices spoke of how they dealt with their issues. Drugs, heavy drug usage. Methadone, Crack etc. seemingly is the main source of comfort. If not drugs, then a visit to the local psychiatrist and put onto "legal" drugs to deal with the diagnosis of bi-polar or some other mental health disorder.
I did not expect a crowd of people at the "meeting" which was held at the Coeur d' Alene Inn. Because of the stories I had heard, my negative thinking kicked in and said "Gloria" there just may be ten people that show up. Fine, I said, if so, if I can at least reach one person with what I have to share with my talk and through using my CD then that's what it will be. At 6:45 P.M. while setting up the projector I looked out towards the hall and noticed this long line of people, seemingly the unending line of people filled the room to capacity as the men who were helping to set up the room brought in many extra chairs. People sat in chairs against the walls, while people stood where they could stand against the walls as well. People were also standing in the hall as there was no more room inside the lecture hall. Before 7:00 P.M. I took my usual walk amongst the crowd to meet and pick up further stories, and "feel out" the people's reception. The news of this particular meeting went as far as Montana, Tacoma, WA. and throughout Idaho. We have the local Newspaper to thank for this as they did their job well in alerting other interested Newspaper publishing companies to this "meeting".
I was not the only one who was in shock! The response was GREAT!! I began my talk and showing my CD pictures until after 10:00 P.M. I did open the floor for questions and sharing, which there were many. This I felt is like opening of Pandora's Box!! Some people could not deal with the confirmation that I was giving to them in regard to their own alien/MILAB experiences, during break time some people got up and left or stayed out in the hall, because they could not deal with what they were hearing to confirm their own experiences.
I stayed an extra week in Maple Valley Washington, and during that week I noticed through my e-mail many responses coming from the crowd in attendance of that night's meeting. I failed to check my home phone until arriving back home. I intend to contact the many alien abductees that called me at home and the e-mails I received for help. Yes, people of Idaho, I do understand because I have lived through what you have lived through, but the difference is I had many people here in Albuquerque who accepted and supported me from my "Awakening". The help and love did not stop there as it did expand into reaching the known investigators in this phenomenon and further expanding to other alien/MILAB abductees throughout the United States and into Europe.
Many people expressed to me the reason why they had to get up and leave the lecture hall. Many people in attendance who apparently are alien abductees are looking for help with their own alien abduction experiences. To have reached out in this manner to many human alien abductees who have been denied their own truth of what they have been living through, with this phenomenon and because of living in such a prejudice city or state. We are not leaving you alone now because Joy and new found friends are working on developing monthly meetings and I hope to give guidance in this area. Coeur d'Alene and the state of Idaho, take heed and listen. Open your minds in regard to this phenomenon! This is just a start for you the alien/MILAB abductees so work with Ms. Joy French and her helpers. These three people need your support so that they can support and help you!! My Blessings and Peace of Light be with all of the alien/MILAB abductees of Idaho, Montana, and Washington!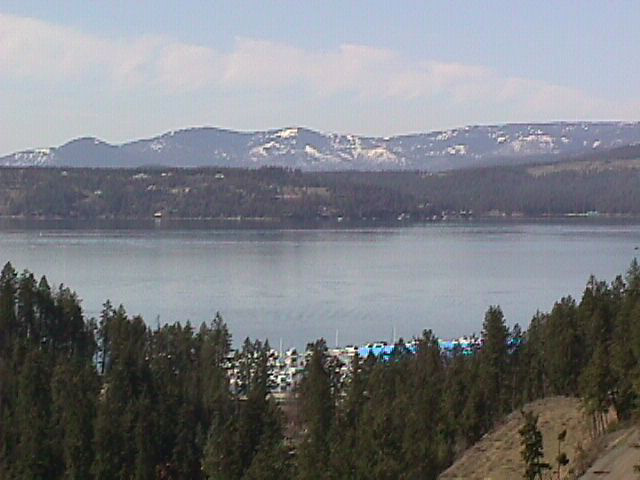 Beautiful Lake Coeur d' Alene