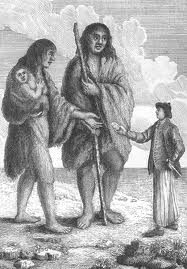 During my years of exploring the Western US for evidence of Bigfoot existence, I have several times crossed the historic Lewis and Clark trail. I even stayed at a campground in Idaho named in their honor. I wondered as I sat by my campfire what it was like to see these amazing lands all those years ago. Lewis and Clark were probably not the first non-Native American guys to travel west of the Mississippi, as some people believe. History now shows very early Spanish settlements in southern California, a possible Chinese expedition in the Northwest, a Polynesian group in the Oregon/Washington/Nevada area hundreds of year before L & C even planned their trip. Meriwether Lewis was considered a giant figure in American History, and he may have had an encounter with Giants of another kind.
Some of the first giant stories were from the Spanish exploring America. The Conquistadores found some amazing evidence proving the existence of giant males 8 to 9 feet tall and a few even taller. There actually may have been Giants here in America as little as 500 years ago. In 1519, as Alonzo Pineda was mapping land along the Gulf coast, he ventured up the Mississippi and encountered a race of Giants. Luckily the Giants were good hosts to the Spanish visitors. Pineda also made detailed drawings of these Giants, which can be seen today at Archivo General de Indias in Seville Spain.
Coronado also ran into a tribe of Giants during his quest for the Seven Cities of Gold or El Dorado. In Mexico there were also similar reports. Friar Diego Duran was a writer of early Mexican culture history; his first contact with Aztec Indians started his education into the giant tribes that once flourished in Mexico. But he finally met the Giants himself during a processional at the feast of Corpse Christi. As the Giants died off only their bones reminded, and the bones were in the procession of the conquering tribes. These bones became valuable currency for trading between the tribes. One of the few great things about the Spanish Conquistadores was that they constantly recorded what was happening as they traveled on their adventures.
Sleep tight, within the next five years I would expect the truth will come out on the existence of the Giants – more to come in Part II.
MWiz.