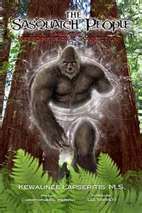 Normally this time of the year I would be on an expedition to some remote area of Canada or the US with my dear friend and Sasquatch researcher Kewaunee Lapseritis. But this year because personal and business commitments I was unable to go. But next year I will be off to the northwest part of Washington State to research for the Giant Ones in an area that is rich in Bigfoot activity.
Now the paranormal aspects of the Bigfoot have caused a major stir in the Bigfoot research community for many years. The belief that Bigfoot is an inter-dimensional being that can easily move between dimensions, has caused tension between the middle-of-the-road researchers and the out-of-the-box researchers like Beck and Lapseritis.
Fred Beck was probably the first to declare that Bigfoot is an inter-dimensional paranormal-type being. In 1924, Fred and his party had a strange encounter with Bigfoot on Mount St. Helens, which redefined reality as Fred knew it. In 1967, Fred's son, Ron, wrote a book on his father's experience called "I fought the Apemen of Mt. St. Helens."
Kewaunee's research in the 70's, 80's and present day has confirmed and re-confirmed Beck's original theory about the Sasquatch's inter-dimensional reality.
Kewaunee has written two books on the subject, and I am sure there will be more books in the future. He claims there are different types of Bigfoot– Ancient Ones–some have a human face, some have an ape-type face and the third kind (which is the rarest of them all) has a baboon face, while some have called these the dog-faced ones.
Kewaunee has had numerous contacts with the Bigfoot people, mostly on the telepathic level, but also has had two physical sightings, where the BF's have materialized and dematerialized in front of him. I will say again that Kewaunee is the real thing researcher and Bigfoot are inter-dimensional beings; years of seeing is believing.
Sleep tight – and find your BF family and enjoy another reality.
MWiz.