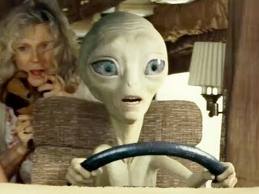 The other night I spent a delightful evening with good friends watching a fun movie called "Paul" – where a Big Blue-eyed Grey alien named "Paul" hitches a ride in an RV with two wacky British guys and travels across the Western US. They are being chased by Black Agents of the Government to capture back Paul. It's a very entertaining movie. But this movie keeps a bit of a sinister theme going which started with the movie "When the Earth Stood Still" and followed by other ones such as the famous Spielberg movie "ET". What these movies have in common is the theme that these Grey types are really good guys, wanting to help us and heck they are kind of warm and even a bit cuddly.
Well the other side of the coin is a book I am now reading by Nigel Kerner called "Grey Aliens and the Harvesting of Souls," our souls. Granted much of his book I feel is at best a theory backed by some loose data. But my gut feeling after 40+ years of personal research into non-human encounters is that I am leaning towards Kerner's theory that these Greys are/were here to genetically modify us for their strange agendas. Kerner further states that they in an indirect sense were/are our creators; in the sense they have been here for a very long time changing us for better or for worse. You know I thought I would never say this but what we call evolution is not what it seems. The animal and the plant world have moved on in an extremely slow snail's pace, never able on its own to create man. Something I believe probably is that the Greys were the geneticists who took a fairly primitive primate and made it into modern man, and this didn't happen overnight but took several thousands of years to get to where we are today.
And now back to our cuddly Grey guy – " Paul" in the movie had way too much emotion, including humor. There are no Greys that have emotions. They are by definition Bio-bots. They are alive biologically, but void of the ability to feel love, suffering, and empathy and all the other emotions that makes us human. They are definitely here and they are harvesting something from us and they have been doing it for a very long time.
And harvesting our souls could be their final and ultimate harvest. Something they have longed for, for thousands of years.
Greys, maybe part of our creation process, but they not necessarily our good Shepherd, and definitely Not like "Paul".
Sleep tight; the truth about the Greys will tip the world upside down, where it probably should be.
MWiz.