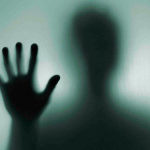 Michael and I were talking a couple of days ago about something that all experiencers, abductees, researchers and family members go through and that is trying to figure out who the "others" are. I was talking to him about who I thought they were but more importantly I mentioned that if you look carefully enough, you can get glimpses of who the "others" are by looking between the lines of documented and recorded testimony of the very people affected by them.
The "others" are vague and blurry but only because they don't have the courage to show themselves directly in front of those they target. The "others" can have large hands especially to a child leading to the conclusion that those large hands belong to a full grown adult. The hands can also be very different from a humans; delicate, long and cold making the experiencer feel they are part of something unworldly, fictional yet real. The "others" have a smell to them, a kind of calling card that alarms the senses first, rousing the mind to full alert. There's electricity in the air just before they arrive, you can smell either wires burning or a pungent odor of dampness combined with an electrical charge that fills the lungs making every breath unnatural and forced.
Humans masquerading in uniforms and boots, speaking in codes along with the clinking of metal are a human designed and operated form of the "others". Compassion with this group, can be nonexistent or a brutal retaliation.
The "others" are known as bright lights in the sky, windows or bedrooms with telepathic messages that dull the senses enough so that a levitated body flows with ease. The memories become hidden messages forgotten by a manipulated mind. The "others" are nightmares and dreaded sunsets that seem to overwhelm agitated nerves.
The "others" smile with a cold reassurance that all will be okay, yet deep down within the soul the truth speaks differently. The "others" can be pure energy like a plasma photon vehicle or spheres that are shaped like orbs or shooting stars. They can go through thoughts and fears without so much a glance.
The "others" can be dark windowless eyes that are like an endless hallway into a dark void, empty and hostile. These eyes seem to capture the mind and cage it in frightening images of consequences.
And yes, the "others" can be smiling faces with genuine intentions that help us become better humans. It really just comes down to which of the "others" we encounter throughout our lives.
So tell us, what are the "others" to you?