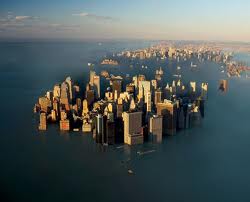 The American Meteorological Society (AMS) recently released their updated position in regards to climate change.
The AMS is clearly making a stronger statement (compared to 2007) in regards to global warming and its cause, saying that the warming of the climate system now is unequivocal.
Some key excerpts from the AMS policy statement……
There is unequivocal evidence that Earth's lower atmosphere, ocean, and land surface are warming; sea level is rising; and snow cover, mountain glaciers, and Arctic sea ice are shrinking. The dominant cause of the warming since the 1950s is human activities.
Climate is always changing. However, many of the observed changes noted above are beyond what can be explained by the natural variability of the climate. It is clear from extensive scientific evidence that the dominant cause of the rapid change in climate of the past half century is human-induced increases in the amount of atmospheric greenhouse gases, including carbon dioxide (CO2), chlorofluorocarbons, methane, and nitrous oxide. The most important of these over the long term is CO2, whose concentration in the atmosphere is rising principally as a result of fossil-fuel combustion and deforestation.
Future warming of the climate is inevitable for many years due to the greenhouse gases already added to the atmosphere and the heat that has been taken up by the oceans.
In the 21st century, global sea level also will continue to rise although the rise will not be uniform at all locations. With its large mass and high capacity for heat storage, the ocean will continue to slowly warm and thus thermally expand for several centuries. Model simulations project about 27 cm (10 inches) to 71 cm (28 inches) of global sea level rise due to thermal expansion and melting of ice in the 21st century.
Atmospheric water content will increase globally, consistent with warmer temperatures, and consequently the global hydrological cycle will continue to accelerate. For many areas, model simulations suggest there will be a tendency towards more intense rain and snow events separated by longer periods without precipitation. However, changes in precipitation patterns are expected to differ considerably by region and by season.