Immense Solar Flare to Cause Northern Lights Show, Interference with Communications
Feb 17, 2011; 1:38 AM ET
From Mark Paquette– Accuweather.com
The sun has been and continues to be extremely active, unleashing solar flares from a sunspot region that was barely visible last week. The sunspot has grown in size to more than 62,000 miles across, a width nearly eight times the width of our Earth.
A video about the solar flare from AccuWeather.com Meteorologist Mary Yoon can be seen by clicking here.
The first flare was categorized by the NOAA Space Weather Prediction Center in Colorado as a Class M6.6. Then on Monday, a more intense X2.2 occurred. This was the strongest flare reported in four years. These flares will ramp up the displays of northern lights for sky-watchers living in northern latitudes and lucky enough to have clear skies. Click here for a description of the classes of solar flares.
The M6.6 is described as "moderate" in intensity, and the X2.2 is described as a "major" event. The X2.2 is already causing disruptions to satellites and communications systems. NOAA's prediction center has forecast the possibility of additional solar flares from the same sunspot region over the next two or three days.
AccuWeather Astronomy Fanpage (please join by clicking here) follower Mark Combellack said…
"(This is the) latest blurb from the space weather folks at NOAA… 'This is the calm before the storm. Three CMEs (coronal mass ejections) are en route (and) all (will be) a part of the Radio Blackout events. The last of the three seems to be the fastest and may catch both of the forerunners about mid to late day tomorrow, February 17. Watch this space for updates on… the impending — G2, possibly periods of G3 — geomagnetic storming'."
"So they seem to be thinking that there could be some strong geomagnetic storming coming up, so Aurora Fans keep your eyes on the skies. I will post here when and if things start getting interesting."
This is from the National Weather Service office in Fairbanks, Alaska:
THE NATIONAL WEATHER SERVICE SPACE WEATHER PREDICTION CENTER IN BOULDER COLORADO ANNOUNCED A HIGH PROBABILITY OF A SIGNIFICANT GEOMAGNETIC STORM OCCURRING THURSDAY FEBRUARY 17 THROUGH SUNDAY, FEBRUARY 20.
GEOMAGNETIC STORMS USUALLY LAST 24 TO 48 HOURS… BUT SOME MAY LAST FOR MANY DAYS. GROUND TO AIR… SHIP TO SHORE… SHORTWAVE BROADCAST… AND AMATEUR RADIO ARE VULNERABLE TO DISRUPTION DURING GEOMAGNETIC STORMS. NAVIGATION SYSTEMS LIKE GPS CAN ALSO BE ADVERSELY AFFECTED. IMPACTS IN ALASKA COULD BE MODERATE WITH THIS EVENT.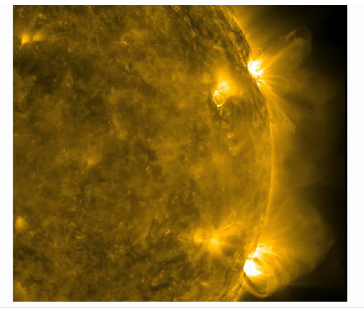 An image obtained Feb. 16, 2011 from NASA, shows a pair of active regions on the sun put on quite a show over a three-day period (Feb. 7-10, 2011) as seen in extreme ultraviolet light from the Solar Dynamic Observatory (SDO) spacecraft.
As mentioned above, with major flares there is the possibility of problems with radio communications after the eruption. The China Meteorological Administration is already reporting jammed shortwave radio communications. On March 10, 1989, a coronal mass ejection erupted from the sun and reached the Earth's surface. The currents from this event entered some power grids and caused a power overload in Quebec, triggering a power outage for millions of Canadians that lasted for hours.
The United States is extremely vulnerable to coronal mass ejections for two reasons: (1) The high power grids that we use to transmit power would attract currents caused by coronal mass ejections and would ruin transformers. (2) We depend on power for things like sewage treatment, running water and many other life-supporting infrastructures. The loss of power for days or weeks could cause major problems for many Americans.
Parts of the northern United States and Britain may see the Northern lights Thursday night. According to the NY Daily News, "…for the United States, the most likely outcome from this latest space storm could be a colorful night sky over New England and even parts of New York State."
Hopefully this solar event does not cause any major problems but it is definitely something to watch.
For the United States, New England and even parts of New York State look to have the best chance for a northern lights show. However, NOAA downplayed the chances of a display somewhat this morning. Only time will tell I guess!