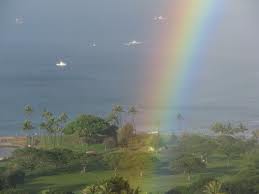 The Rainbow I am speaking of is a person here in Albuquerque. She spoke in front of the New Mexico UFO/ Paranormal Forum during their February meeting about her lifetime experiences and abductions in the strange world of alien contact. I would say for most encounters with aliens, you typically do not intend to have one when you wake up on that particular day. It's more like an "Oh Shit" reaction when you feel them coming.
Rainbow's abduction experience began at the early age of 5 or 6 years old and continues today. Her memories of these encounters flashed back to her later in life around the age of 40. The flashback of an encounter she had in the west mesa area of Albuquerque opened her memory floodgates. Before 40 she was always very uncomfortable traveling on the west side of Albuquerque. And finally at 40 she knew why. Those encounters started as an innocent ride in a catholic school bus to the west mesa area. But as soon as she and her classmates got off the bus, there were three large alien ships. The children were told to line up in a straight line and wait for further instruction. Large grey aliens were walking among the children to keep order; one approached Rainbow and told her the chosen ones would not be coming back. This for obvious reasons this comment sent fear racing throughout her body. But on that day she was not chosen.
She has had many other experiences over her lifetime, all she perceives to have happened in New Mexico. One particular encounter in Santa Rosa, involved her husband; they were riding horses when they both encountered a tall blonde Nordic being who was standing by a her small alien craft, claiming to be trying to repair it. The being was pleasant, even showing Rainbow the inside of the craft.
One of the interesting themes that move through Alien/UFO community is the alien interest in human children, although I suspect some of these children are actually human/alien hybrids. Note, New Mexico has the highest level of missing children in the United States. I read recently Homeland Security and local law enforcement officers are teaming up and developing a task force to see why this is true.
Sleep-tight – having contact experience is a cutting edge experience, having fear of it is not what you want, a fearless human is a powerful human.
MWiz