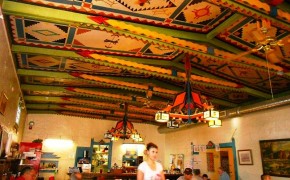 Please read part 1 and part 2 to catch up on the Shaffer Hotel's great epic ghost saga. So let's continue with the stories that made this cute hotel in the middle of Mountainair, New Mexico a treasured landmark.
There was a particular room in the hotel where there were constant noises coming from the room, most of them sounded like footsteps. It got so bad that staff thought someone was sneaking into the room and making the noises and strangely putting a child's footprints into the carpet. So the staff changed the locks on the room, but the noises and the footprints continue until today.
Next the hotel has a regular guest that does business out of one of the hotel's rooms. This guest commented to the staff that the ghosts had to go. Our tour guide knew that comment wasn't going to fly with the ghosts and she was right. Quickly thereafter a strange symbol appeared outside the room of that particular guest and it looked a bit satanic or maybe Masonic in nature. The staff tried everything to remove the symbol but nothing worked. Finally the guest apologized to the ghosts and the symbol disappeared.
And then there was the famous suitcase incident: a mother, daughter and grandmother were staying in a room together and there was a beautiful piece of furniture, a rocking chair built by Pa Shaffer in the room. The little girl placed her suitcase on the chair and opened it, but suddenly the suitcase slammed shut, scaring the three women into the hallway. Other strange events had happened before in that particular room involving that rocking chair. This event happen in April 2014, and since then the rocker has been removed to storage and any further happenings have stopped.
There are many more stories. I would encourage you to visit this wonderful hotel in a very enchanted part of New Mexico, get the guided tour from Becky or Sheryl and tell them Mike from the New Mexico UFO/Paranormal Forum sent you.
Sleep tight, remember you can safely befriend a ghost but don't challenge them, they will have the advantage.
MWiz